Toys that celebrate the flavors of Hawai'i
Toys that celebrate the flavors of Hawai'i
E KOMO MAI! WELCOME!
Keiki Kaukau (say kay-kee cow-cow) means "kid food" in Hawai'i! We create joyful children's products that reflect the beauty and diversity of the Aloha State.
We want children everywhere to take pride in their cultural heritage, and invite them to explore the rich array of Pacific Rim flavors.
Mahalo (thank you) for stopping by!
"We love the creative themes, beautiful colors, and amazing quality of all our Keiki Kaukau toys and books. Our island culture is vibrant and unique, and these toys represent it proudly."
- Erin, mom and customer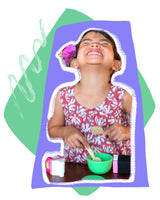 COMMUNITY
Because good nourishment is at the foundation of healthy child development, Keiki Kaukau has partnered with the Hawai'i Food Bank to donate five meals for every play food set sold. To date, we've donated over 85,000 meals! The Hawai'i Food Bank helps feed 1 out of 8 people in the state, including over 54,000 children.
We regularly partner with other non-profits to boost visibility and fundraise, and we make in-kind donations of keiki products to schools and non-profits statewide.
Mahalo for helping us raise $15K to donate to Maui Fire Relief via the Hawai'i Community Foundation, Maui Habitat for Humanity, and Healthy Mothers Healthy Babies Coalition of Hawai'i.
Follow + tag us @keikikaukau